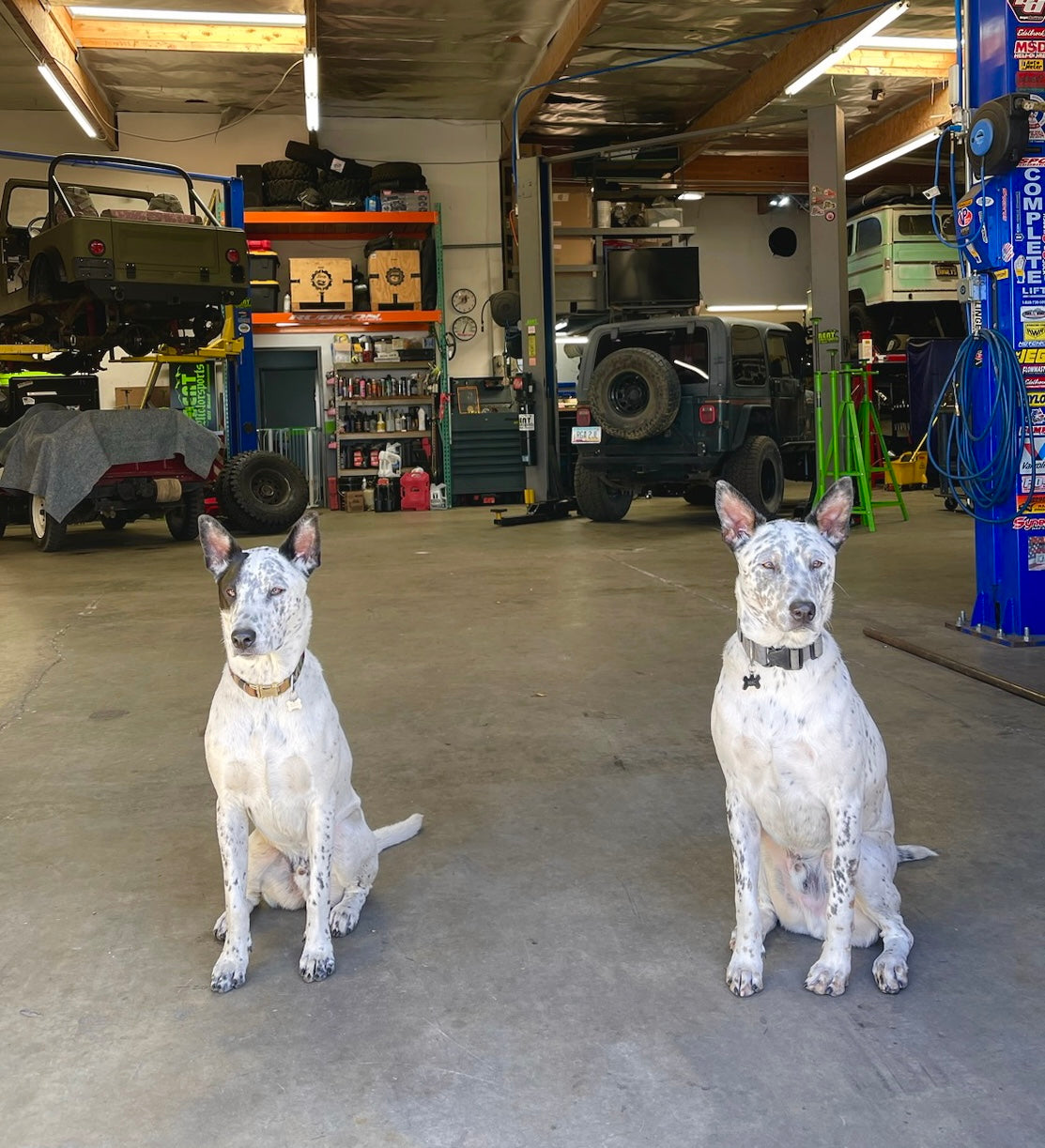 David Beckett
David, the owner of Bent Motorsports has had his head sunk into cars for over 30 years. Whether it was on Race teams or off-road vehicles, he's fixed it. He started in the big rig scene doing alignments, and over the years has had his hand in a fair amount of fuel powered projects. Not to mention, he's an ASE certified Master-Tech. That big gold badge hangs proudly in the Bent Motorsports lobby. David is driven by a passion for motorsports but, more importantly, your passion for motorsports. The whole Bent Motorsports crew and himself are dedicated to getting you back out on the road or trail quickly with the parts and services you need. A motto that has naturally developed within our amazing community is- "Get Bent, Stay Bent". You'll see!
Jake Huntzinger
The US army gave him his attention to detail, but he cultivated his own love for motorsports. Assigned as a Platoon Mechanic, he lead a team responsible for servicing multiple military grade vehicles like the FOX 6x6, and the striker 8x8. Saying he is well qualified would be an understatement. As for his foray into motorsports, he started doing classic car restorations with his grandfather; and after he acquired his first Dirt-bike it was all rooster tails and horsepower from there. Proficient in all things shop, his experience, coupled with a background in robotics, means he's the one making sure no one gets their wires crossed.
Jake Russo
Starting his professional career in 2014, 'Russo' is also an ASE certified technician. Specifically in suspension and steering. Growing up, Russo tailed his father into a love for American Muscle and soon found his own passion for Vintage Bavarian Engineering. There has since been a transition into the Jeep world which has allowed some pretty awesome adventures to Moab, the famous Rubicon Trail and many others. His extensive knowledge of mechanics, repairs and off-roading is passed onto anyone we come across and help on the trails.
Kevin Herring
USMC OIF/ OEF Veteran who does our media and anything else needing to get done. He also runs a non-profit for Disabled Veterans, Trail Therapy Offroad. Kevin grew up in the NE and spent most of his young days in the junkyards of New Jersey and racing cars in Philly. Having built an abundance of cars and motorcycles, his need to get dirty never ends. With that energy, he builds Light Attack helicopters for the Marine Corps, rucks trails with camera gear to capture our epic adventures and is the blunt of most of our s*** talking.
Curtis Milby
After moving to Southern California from New Jersey in 2006, Curtis was drawn to the Motorsports world that his new home had to offer. At a young age, he was introduced to racing ATV's and was instantly hooked. As he grew the toys got larger and faster. With tinkering on vehicles throughout high school with his brothers and friends in the driveway, this quickly turned into a passion and into a career after attending Universal Technical Institute. From changing oil to completely managing a shop he had to learn every aspect of the industry. Stumbling across the world of Jeeps created a whole new avenue for his passion so whether it's a local trail or a major trip to MOAB, Curtis is always ready to work and for the next adventure.
Carlos & Mac
Employees of the month, every month.
Hannah Felton
A welder eager to of master the art of fabrication. Hannah loves all things off road. She grew up riding dirt bikes in Ocotillo Wells and Big Bear Lake. Later in life she fell in love with off-road trucks, sand cars, rock crawlers, and every high horse power build in-between. The "Built not Bought" mentality is what fueled her passion for welding.
...and her sneezes sound like you stepped on a squirrel.
Andrew Heil
They call me Drew, I drive a ZJ and I didn't give Kevin my Bio.
Matt Bollinger
Born with a craving for adventure, Matt's passion for off-road, camping, Harleys, dirt bikes, and even ATC 70 three-wheelers has defined his life. Matt taught him self to work on his own vehicles at a young age. His unwavering dedication to his passions led him to connect with the Bent Motorsports crew. Whether it be the desert, the mountains, or the river, you'll find Matt there, having a good time.
Also, hurt himself on his first day.
We're an off road shop...‍
... Oh, you're still reading. That wasn't enough? Okay, let's fire it up.
Back in 1997 there was a company called Beckett Enterprises. They primarily did big rig alignments, and it was run and founded by David Beckett and his father Joe. They used special tools invented by Joe's Brother. It was a family run business that did quality work and was well known in it's field.

David, however, had a passion for performance. A need to push a vehicle to it's limits and subsequently allow the driver to find their own. He worked on race teams, built his own cars, and eventually started his own business. Back at Beckett Enterprises they would sign everything with a short abbreviation, "B. ENT.", paying homage to his origins, the new company was called BENT.

One of the first major milestones for Bent was a 10" over long travel kit that could be bolted on to Polaris RZRs. Practical engineering and application was the cornerstone of Bent, and they hold those ideals still today. Anything that interested them was brought into the shop; 800hp twin turbo Sandrails, Jeep rock crawlers next to Nissan GTRs, and outside would be parked a classic 64' Stingray. All in the interest of working on things that got them excited.

Bent holds true to a belief that you should love what you do and they keep that passion going by working with people that hold the same enthusiasm. Whether you own a race team or you've had the same project for years. Bent Motorsports knows everyone is here for the same reason. We all want to put our foot down, listen to the revs climb, and go for a rip.

It doesn't matter what you drive, The guys at Bent are excited about it because you are excited about it. It's what keeps them going. Talk to anyone in the shop and you'll find out why they do what they do. From the smallest to the largest jobs, the guys at Bent know they aren't just installing parts, they're investing into the Motorsports community so that more people can get out there and do what they love.

Bent Motorsports is Motorsports and they're here for you. To provide you excellent service and a shared passion. It's what keeps people coming back. You might catch them out in Ocotillo or see one of the guys at the track. Don't hesitate to say hello and ask some questions. They're always down to talk horsepower or shop work, and you'll be left with a good understanding of how Bent works.

Give us a call today!